Chinese health officials said on Tuesday that Wuhan's coronavirus outbreak had killed 106 people, with 4,515 were infected.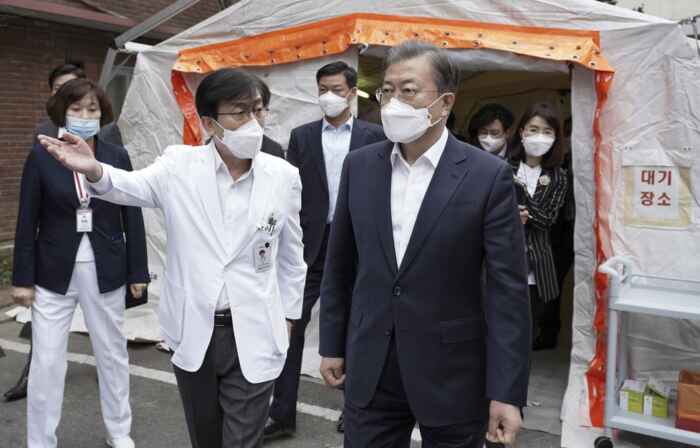 The authorities also described 60 people had been cleared and sent home.
More than half of the reported cases are in mainland China, where local authorities have quarantined different major cities and aborted Lunar New Year's celebrations around Beijing and elsewhere.
On Monday, the U.S. Department of State raised its travel advisory for China from Level 2 to Level 3 informing Americans to "reconsider travel to China because of the novel coronavirus." The office also said that some areas have "added risk."
President Donald J. Trump addressed the matter on twitter Monday, saying the United States is "in very close communication with China concerning the virus."
We are in very close communication with China concerning the virus. Very few cases reported in USA, but strongly on watch. We have offered China and President Xi any help that is necessary. Our experts are extraordinary!

— Donald J. Trump (@realDonaldTrump) January 27, 2020
Several cases of the new virus have been reported in Hong Kong, Taipei, Macao, Vietnam, Thailand, Singapore, South Korea, Japan, Malaysia, France, Australia and the U.S.
The German local authorities on Monday confirmed the country's first case of coronavirus. Nepal has also stated one case. Sri Lanka confirmed its first case on Monday, Reuters reports. Cambodia also declared its first case on Monday, according to Reuters, citing Health Minister Mam Bunheng.
Multiple firms, including U.S. Walt Disney with its Shanghai Disney, are suspending operations until any further update during the normally festive weeklong Chinese New Year holiday to avoid the epidemic from spreading.
McDonald and Starbucks also closed stores in the province of Hubei.
The Centers for Disease Control and Prevention reported Sunday a fifth U.S. case of the coronavirus – a patient in Arizona's Maricopa country, who in recent times traveled to Wuhan, the epicenter of the virus' outbreak and where the majority of cases have been observed.
Health officials from the U.S. have warned that the flu or other respiratory sicknesses could complicate identifying more cases. They recommended that people contact a health-care provider before seeking treatment so the proper measures can put in place.
The CDC is working to accelerate the testing process to ensure that the tests must reach in the hands of state health officials in no time to waste. Currently, it's taking about four to six hours to complete a diagnosis by CDC once a sample makes it to its lab.
The number of "patients under observation" in the U.S. has almost doubled since Thursday to a total of 110 in about 26 states, said CDC officials on this Monday.
The virus is not transmitting via human-to-human contact in the United States and the threat to the public right now is still reflected low, the director of the National Center for Immunization and Respiratory Diseases. Dr Nancy Messonnier told reporters on a conference call Monday.
Considered a relatively large family of viruses the coronavirus usually infect animals but can oftentimes evolve and spread to humans. Symptoms in humans mostly include coughing, fever and shortness of breath, which can lead to pneumonia.
Physicians have compared this virus with the 2013 outbreak of SARS, which had a short incubation period of around two to seven days.
The U.S. health officials are saying the symptoms of the
new Wuhan's virus, for the time being, named 2019-nCoV, may take up to more than 14 days to appear.
Dr Tedros Adhanom Ghebreyesus, the director-general of the World Health Organization (WH0) is flying to Beijing to talk to government and health officials in China.
The health organization said that more data needs to be gathered before the disease, which can spread through human-to-human contact, becomes a global health emergency.
WHO – in its two urgent meetings last week – has declined to say the 'coronavirus outbreak was a global emergency'.
China has sped up efforts to increase medical facilities to Wuhan that includes the transfer of roughly 14,000 protective suits and around 110,000 pairs of gloves from the central medical reserves, according to a report released by the State Council.
Emergency supplies of around 3 million masks, 100,000 protective gloves and about 2,180 pairs of goggles were also delivered.
Over 1,600 medical staff are stated to be sent to the Hubei province to assist in containing the virus. The Central government of China already announced allocating 1 billion yuan, or $145 million, as an aid for the province. Wuhan is building a 1,000-bed hospital to cure the infected patients, and it has plans to have the hospital operational by the end of the week.
The development period for formation of the Wuhan's new medical facility is between two and 14 days, Dr Nancy Messonnier described.
There's been some argument over how infectious the disease is, and she said it might take some time before researchers can figure that out.
"The outbreak is really unrolling in front of our eyes," Messonnier said – and added that the so-called R nought, a mathematical equation that exhibits how many people will get a sickness from each infected patient, is somewhere around 1.5 to 3.
Measles, which remained one of the most contagious infections around the world, carries an R nought of 12 to 18, by comparison, she said and added that "CDC hasn't seen any proof that shows it's contiguous before symptoms appear.