MSNBC
MSNBC is a New York-based cable and satellite news TV channel that started off its services back in 1996. The channel was created by Microsoft and General Electric's NBC unit (currently the Comcast-owned NBCUniversal).
MSNBC is available to watch in the US, Canada, the UK, and the Middle East.
How MSNBC got created (Affiliation: Corporate Relationships)?
Way back in the 20th century–1996 to be precise–National Broadcasting Corporation and the Microsoft decided to team up and form a new entity, MSNBC.
At the time, Microsoft was for all intents and purposes the most powerful technology company in the world, and NBC was the number one TV Company.
At the beginning, Microsoft invested nearly $220 million for a 50% share of the cable network, while -Microsoft share the cost of a $200 million.
(The credit of creating MSNBC goes to NBC executive Tom Rogers, who had been instrumental in bringing in a joint venture between the two companies)
Early Breakthrough for MSNBC
On its launch, MSNBC was decided to be a 24-hour news television channel with technology and interactive twist. Online, its official site would be a chance not only to showcase news from NBC News but also to allow Microsoft to experiment with new ways of content display and interaction.
MSNBC.com strongly benefited from its parent organizations, and as a result of the deal and to help increase the traffic, NBCNews.com redirected to the MSNBC.com.
In early 2005, NBC acquired the majority of the Microsoft stake in the MSNBC television network at 82%. Talks at the time also breached the idea that either NBC or Microsoft would acquire the sole ownership of MSNBC.com.
MSNBC the cable channel began to switch things around in 2007 and 2008, with a focus on politics and opinion in primetime. While that was a milestone for the channel, it was the beginning of the end for the Microsoft-NBC partnership online.
Types of programs broadcast by MSNBC
MSNBC is currently the premier destination for in-depth analysis of daily headlines through commentary and informed perspectives. Having the slogan "This is who we are," the channel is now seen in over 96 million households across the US (81.2 percent of those with television).
Nowadays, CNBC offers a full schedule of live news coverage, progressive voices, and award-winning documentary programming – 24 hours a day, seven days a week. It also delivers breaking news and information on a variety of platforms including MSNBC.com, its new digital platform shift, and MSNBC on Sirius XM radio.
Paying visit to the official site of the MSNBC will get visitors to round-the-clock national and world news on plethora of topics such as Trump and Russia, republicans, democrats, sports, documentaries, weather updates and discussions on education, economy, Health, Green, national security, society, newsletters, blogs, elections and more.
Major improvements made by MSNBC
MSNBC's Ups and Downs really started to happen since September 2008, when the channel hired political analyst, 'Rachel Maddow', to anchor a new political opinion program called the "The Rachel Maddow Show." The program continually outperformed CNN's Larry King Live and made the channel appealing in the program's time slot for the very first time in over a decade.
Some of the major programming updates that MSNBC has made in its recent past include:-
Transitioning from opinionated, left-leaning programming to hard news programming. Nearly all daytime opinionated news telecasts were replaced with more generic news programs.
Launch of a promotional ad campaign with the theme, "in order to know beyond, you've to go beyond." The campaign portrayed the MSNBC's reporting and perspectives as in-depth on other cable news outlets
MSNBC's first new primetime show in nearly four years – The 11th Hour with Brian Williams was launched as a nightly wrap-up of the day's news and a preview of the following day's headlines.
The news ticker at the rear end of the screen on every program got removed for a cleaner view to the audience.
MSNBC's ratings
In May 2017, MSNBC for the first time became the highest rated American cable news network in the primetime. The channel's increasing viewership was accompanied by declining numbers at FNC.
MSNBC's May 15-19 programming topped the broadcast of both FNC and CNN in total viewers and the advertiser-coveted younger demographic.
MSNBC offers its visitors the opportunity to receive its exclusive news feeds and reports from the channel which is now 20 years.
You can connect with the network using your account on social media sites like Twitter, Facebook, and Google+. Here is the website: http://www.msnbc.com.
A synopsis of MSNBC's programming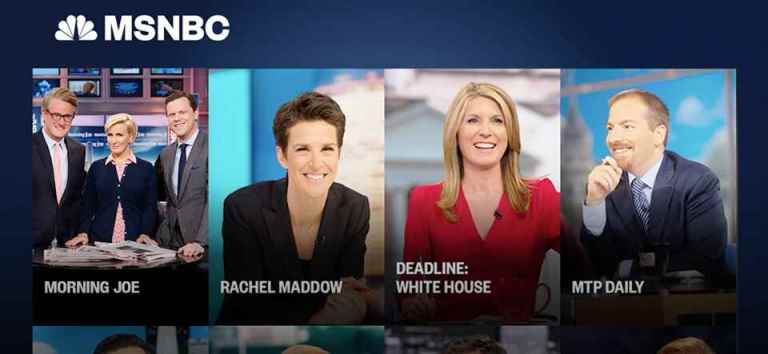 Aside from a whole host of national & international news, MSNBC also offers quality original programming. Here is a brief synopsis of their best shows.
The Beat With Ari Melber – An American news and political program hosted by Ari Melber (chief legal correspondent for the network), it airs weekdays at 6 pm and enjoys larger audience than CNN's 6 pm program by a wide margin when it comes to total viewers–drawing about 700,000 more viewers per night.
Popular segments on "The Beat with Ari Melber" include news reporting, panels, one-on-one interviews, and special reports by the anchor. Also, the show includes a "Fallback Friday" segment every Friday.
Other popular television shows include "The Rachel Maddow Show," "Andrea Mitchell Reports," "Countdown with Keith Olbermann," and "Meet the Press."
Leadership at MSNBC
Phil Griffin – President since July 2008
Brian Williams – Chief Anchor Breaking News
Pat Burkey, Jonathan Wald, and Janelle Rodriguez – Editors programming and news operations.
Sister Channels to MSNBC
| 1. | CNBC |
| --- | --- |
| 2. | CNBC World |
| 3. | Sky News |
| 4. | Euronews |
| 5. | NBC |
| 6. | NBCSN |
| 7. | Syfy |
| 8. | Bravo |
| 9. | USA Network |
| 10. | Golf Channel |
| 11. | E! |
Among the popular sister channels of MSNBC include CNBC, CNBC World, NBC, Sky News, and Euronews.
News Programming of MSNBC
| Programs | Host | Telecast Time |
| --- | --- | --- |
| Morning Joe First Look | Yasmin Vossoughian, Ayman Mohyeldin | 5:00 AM |
| Morning Joe  | Joe Scarborough, Mika Brzezinski, Willie Geist | 6:00 AM |
| MSNBC Live | Brian Williams, Chris Jansing, Stephanie Ruhle | 9:00 AM |
| MSNBC Live with Craig Melvin | Craig Melvin | 10:00 AM |
| MSNBC Live with Tamron Hall     | Tamron Hall | 11:00 AM |
| Andrea Mitchell Reports | Andrea Mitchell | 12:00 PM |
| MSNBC Live with Thomas Roberts    | Thomas Roberts | 1:00 PM |
| Live with Kate Snow | Kate Snow | 3:00 PM |
| MTP Daily | Chuck Todd | 5:00 PM |
| With All Due Respect | Mark Halperin, John Heilemann | 6:00 PM |
| Hardball with Chris Mathews | Chris Mathews | 7:00 PM |
| All In with Chris Hayes | Chris Hayes | 8:00 PM |
| The Rachel Maddow Show | Rachel Maddow | 9:00 PM |
| Last Word with Lawrence O'Donnell   | Lawrence O'Donnell | 10:00 PM |
| MSNBC Documentaries | Ann Curry, Lester Holt, Matt Lauer, and Stone Phillips | Tuesday 3:00 AM |
| Your Business | JJ Ramberg | Sunday 5:00 AM |
| Weekends with Alex Witt | Alex Witt | 7:00 AM, 12:00 PM, 1:00 PM |
| AM Joy  | Joy Reid | Weekends 10:00 AM |
| MSNBC Documentaries | – | Weekends 2:00 PM-8:00 PM |
| Lock Up | – | Weekends 9:00 PM-11:00 PM |
| Politics Nion with AI Sharpton | AI Sharpton | Sunday 8:00 AM |
Availability 
1-Cable:-
| Available on majority of Cable provider | Channel slots vary on each operator |
| --- | --- |

2-Terrestrial:-

| Digital terrestrial television | Channel 50.4 (Alexandria, Minnesota) |
| --- | --- |

3-Satellite:-

| DirecTV | Channel 356 (SD), Channel 1356 (HD) |
| --- | --- |
| Shaw Direct | Channel 511 |
| Bell TV (Canada) | Channel 1588 (HD) |

4-Satellite Radio:-

5-IPTV:-
| AT&T U-verse / CenturyLink | Channel 215 (SD), Channel 1215 (HD) |
| --- | --- |
| Bell Fibe TV (Canada) | Channel 1506 |
| Bell Aliant TV (Canada) | Channel 243 |
| Google Fiber | Channel 103 |
| Verizon FiOS | Channel 103 (SD), Channel 603 (HD) |
| TELUS TV (Canada) | Channel 97 |
| VMedia (Canada) | 185 (SD) |