The U.S. Air Force confirmed on Monday that a plane crashed in Afghanistan's central Ghazni province, reportedly killing everyone on board.
Gen. Dave Goldfein, Chief of Staff of the U.S. Air Force, told to media that the plane is a U.S. Air Force E-11A military aircraft, manufactured by Bombardier. The plane crashes in the area, which is currently under Taliban control.
The General was unable to verify whether the airplane was shot down by hostile fire, nor could he confirm details about potential causalities.
"We don't exactly know the status of the crew," Goldfein said.
"Here's another thing I will share with you, every time I've been through this which, unluckily, has been a number of times, the beginning reports are always mistaken, always wrong. So we have to make sure that we got the facts right and as soon as we have those facts I promise you we will present them to you," the General added.
Statements by U.S. and Afghan officials
Telling to reporters in a Pentagon press briefing on Monday, the U.S. Defense Secretary Mark Esper said that he was "aware of the situation" and got "nothing further to report at this time."
U.S. Forces' spokesman for Afghanistan, Col. Sonny Leggett, described in a statement that
cause of the crash was under examination and that there were "no signs the crash was caused by enemy fire."

Leggett also said that the Taliban's claims of downing the aircraft were false.
The crashed aircraft, E-11A, is an electronic surveillance plane used to link communications on the battlefield. Given the hilly terrain around Afghanistan, the E-11A is essential for transmitting communications between ground troops, commanders as well as other military assets in the region.
The airplane is assigned to the 430th Expeditionary Electronic Combat Squadron effective at Kandahar Airfield in Afghanistan.
Maj. Beth Riordan, A spokeswoman for the U.S. Central Command, had said earlier that it kept unclear whose airplane was involved in the crash.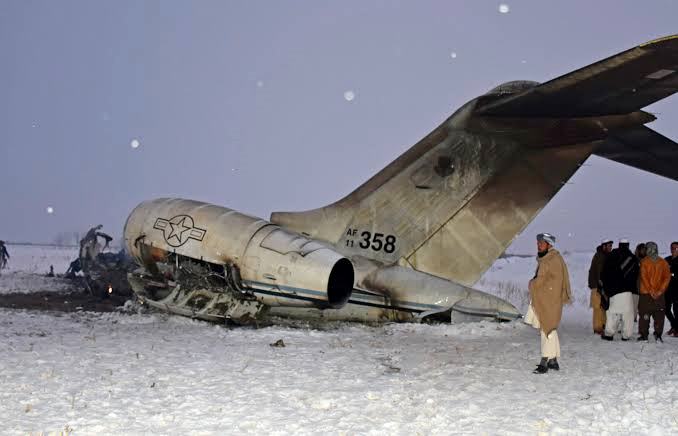 "U.S. Central Command is aware of the reports of a U.S. airplane crash in Afghanistan. We're now monitoring the situation and will announce additional information when possible," Riordan said.
Central Command of the U.S. has declined to speculate on who or what might be responsible for the crash.
ویډيؤ#غزني دهیک ولسوالۍ کي لویدلي الوتکه د امریکاي کمانډویانو ده د پیلوټانو په شمول له پنځو تر شپږو تنو وژل شوي د یوه امریکايي عسکر کارټ هم مجاهدینو ته په لاس ور غلي نور وروسته pic.twitter.com/2Wm9pImtBi

— Tariq Ghazniwal (@TGhazniwal) January 27, 2020
Ghazni governor house spokesman, Arif Noori, said security officials, rescue teams and fire brigades were at the site of the crash.
It was primarily reported to be an aircraft from the state-owned Arian Afghan Airlines. But the airline's CEO Mirzakwal has denied that one of its planes had crashed.
"There has been an airline crash, but it doesn't belong to Ariana because the two flights led by Ariana today from Herat to Delhi and Herat to Kabul are safe," Mirzakwal told Reuters.
A Facebook account associated with the airline mentioned that if any crash did take place, it didn't involve one of its planes.
The spokesman for the provincial governor said the airplane crumbled around 1:10 p.m. local time in the Deh Yak district. Two of the provincial council members have also confirmed the crash, according to AP.
Zabihullah Mujahid, a spokesman for Taliban, stated the group was checking on news of a plane crash, Reuters reported.
Advisory Notes from Aviation authorities
The EASA (European Union Aviation Safety Agency) currently has an advisory note that cites Afghanistan airspace warnings from a number of countries.

A potential risk has been suggested by the U.K. Aeronautical Information Service

to planes flying below 25,000 feet due to threats of "anti-aviation weaponry."
U.S. Federal Aviation Administration (FAA) releases "extreme caution" when flying into Afghan airspace, advising that the ground time in the country should be minimized.
A spokesperson for Ariana Afghan Airlines wasn't directly available for comment when contacted by media, including CNBC.