Swedish climate activist Greta Thunberg hit back at Steven Mnuchin in a tweet on Thursday after the Treasury Secretary suggested her to study economics in a college before lecturing the U.S. on fossil fuel investments.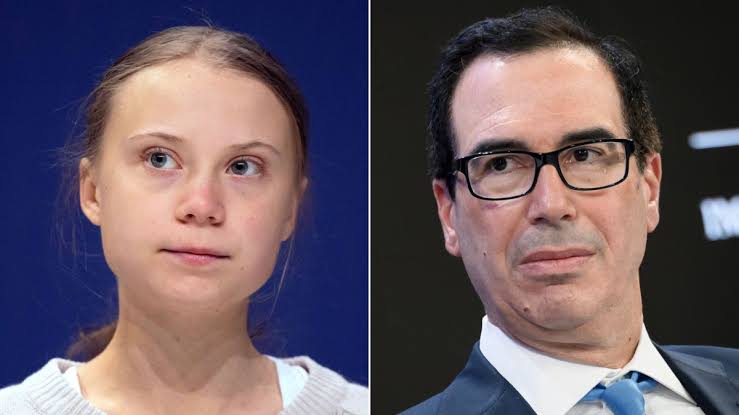 Mnuchin criticized Thunberg's financial credentials at the World Economic Forum in Davos, Switzerland.
Speaking to reporters in a press meeting, Mnuchin was asked whether the world's largest economy should fully and immediately divest from fossil fuels.
The question was put majorly because Thunberg, alongside 20 other young climate activists, had called on the world's business leaders and decision-makers to stop investing in fossil fuel exploration and extraction.
An intensifying climate crisis is top of the agenda in Davos, Switzerland.
It follows a 12-month period that witnessed the hottest year on record for the world's oceans, the second-hottest year globally.
Mnuchin Commented over Greta Thunberg Remarks on Climate Change
"Is she the chief economist or who is she? I'm confused," Mnuchin spoke at WEF, before adding it was "a joke. That was funny."
"After she goes and studies economics in college she can come back and explain that to us," Mnuchin added.
So either you tell us how to achieve this mitigation or explain to future generations and those already affected by the climate emergency why we should abandon our climate commitments. 2/3

— Greta Thunberg (@GretaThunberg) January 23, 2020
Earlier during the week, Thunberg cited the Intergovernmental Panel on 2018's Climate Change report as she passed remarks to a packed audience.
According to the IPCC report, the remaining carbon budget would need to fall under 570 gigatons of carbon dioxide in the next years if the world is to get a 67% probability of restraining global warming to 1.5 degree Celsius.
"With current emission levels, the remaining budget is gone in fewer than eight years," Thunberg said Tuesday. She further expressed that "They aren't anyone views. This is what science says."
Thunberg reached to fame in 2018 when she was skipping school every Friday to attend a weekly vigil held outside the Swedish Parliament.
It led to an international wave of school strikes, also known as "Fridays for Future," with thousands of children taking part in marches around the world.