"Even if the coronavirus outbreak got under control quicker than SARS was in 2003, the impact on the economy now seems likely to be of at least a similar scale," Mark Williams, chief economist for Asia at Capital Economics said in a note on Monday.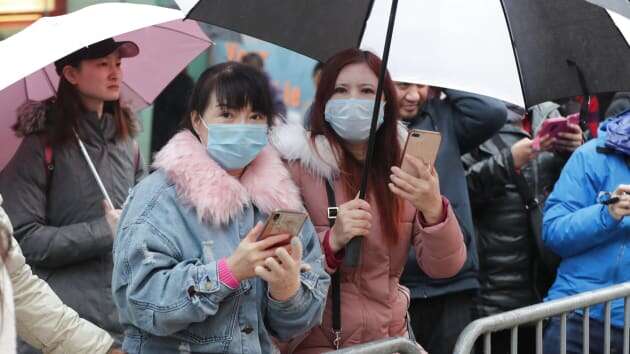 "There are reasons to worry about this time around compared to SARS because most importantly, the connectivity in terms of transportation and economy is much bigger nowadays as compared to the SARS episode," said Tommy Wu, senior economist at Oxford Economics.
The disease has reached beyond Wuhan to Beijing, Shanghai and other densely populated areas in the country. Cases around other parts of Asia such as Thailand, Singapore, Japan and South Korea, have also been appeared.
In Europe, the coronavirus has been reported in Germany and France, and the U.S. currently has five confirmed cases of the disease.
Wu also emphasized the timing of the spread, which took place just before the Lunar New Year holidays, when about millions of Chinese traveled locally and internationally to be with their relatives during the festivities.
"The timing is so crucial because this time around is during Chinese New Year, where there're mass movements of people around the country going back home for family reunion," Wu said, and added, "That's why it's quite possible that this time around the impact could be more striking than it was during the SARS episode."
Capital Economics released an estimate, suggesting SARS has lowered China's growth by at least three percentage points during its worst-affected quarter. Overall, growth dropped 8% year-on-year to 5% during that outbreak.
A very scarce data available currently suggest that so far the impact is not yet that severe. Still, it could end up being similar (to SARS in 2003)," the chief economist at Asia's Capital Economists Mark Williams suggested, and added, "But it is now clear that the outbreak will have a significant impact on China's GDP this quarter."
Updates on Wuhan's coronavirus spread
The Wuhan coronavirus, which could lead to a type of pneumonia, has already surpassed that of SARS, killing more than 132 people in China as of Wednesday.
According to the National Health Commission of China, the number of cases only in mainland China climbed to 5,974 at the end of Tuesday, up from 4,515 the day before.
Initial figures from the authorities signal a fatality rate of between 2% and 3% in China for the new virus, compared to a death rate of about 7% for SARS.
SARS vs new coronavirus
Healthcare officials described that it took a period of more than six months for the number of SARS cases to reach over 5,000 in mainland China. The country had 5.327 SARS infected patients between Nov.1 2002 and July 31 2003, says a report from WHO.
On the flip side, it's taken about a month for the number of new coronavirus cases to exceed past 5,000 on Tuesday. The new virus was initially reported in the Chinese city of Wuhan on December 31.