Early Saturday morning, Iran has confessed its military made an "unforgivable mistake" in unintentionally hitting down a Ukrainian airliner and killing all 176 passengers on-board.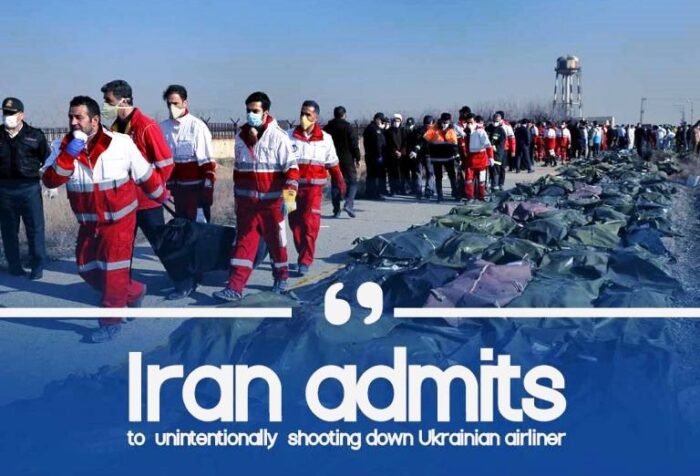 After days of denying western allegations that pointed to Tehran being responsible for the accident, Iran finally embraced on its state TV early on Saturday, saying the hit was unintentional and caused by a human error.
Confess from Iran amid an apology from the President Hassan Rouhani and condolences from the supreme leader, Ayatollah Ali Khamenei.
Ukrainians, in their part, responded on Saturday morning that Iran must deliver an official apology and show its consent for the execution of an in-depth investigation and compensation.
Volodymyr Zelenskiy, Ukraine's President, said in an official statement that their 45 professionals require full access and cooperation from Iran's government to establish justice for those who died in the hit down of flight 752 on Wednesday.
The Canadian Prime Minister Justin Trudeau also delivered a statement this morning, saying his country' focus will remain on "closure, accountability, transparency and justice" for the families of the 57 Canadian victims.
Hassan Rouhani, the Iranian President, wrote on social media this Saturday, deeply regretting the disastrous mistake and offering his condolences to all the mourning families.
The Islamic Republic of Iran deeply regrets this disastrous mistake.

My thoughts and prayers go to all the mourning families. I offer my sincerest condolences. https://t.co/4dkePxupzm

— Hassan Rouhani (@HassanRouhani) January 11, 2020
The Iranian Foreign Minister Javad Zarif tweeted, declaring it a sad day and that human error at the time of crisis triggered by U.S. adventurism led to disaster.
The plane was mistaken for a hostile target after it turned in the direction of a sensitive military centre of the Revolutionary Guards, as explained by a military statement featured on the official IRNA news agency.
"The military was at its utmost level of readiness" concerning the heightened tensions with the U.S., it stated, adding: "In such a situation, because of human error and in an unintentional manner, the flight was hit."
Iran's army apologized for the incident and shown its intent to upgrade systems to avoid any future mistake. They further announced the responsible persons would be taken to judiciary within the military and held accountable for the error.
A sad day. Preliminary conclusions of internal investigation by Armed Forces:

Human error at time of crisis caused by US adventurism led to disaster

Our profound regrets, apologies and condolences to our people, to the families of all victims, and to other affected nations.
💔

— Javad Zarif (@JZarif) January 11, 2020
Acknowledgement of responsibility from Iranian officials raises questions of why authorities didn't cease flights from the country's main international airport and its airspace after launching ballistic missile attacks when they feared U.S. counterstrokes were possible.
This confession also raises questions on the credibility of information publicized by senior Iranian administration so far. As recently as Friday, the head of national aviation department, Ali Abezadeh, told reporters that a missile had not led the crash. On Thursday, the cabinet spokesman Ali Rabiei had too dismissed allegations of a missile strike.
"Iran has pleaded guilty to crashing Ukrainian plane even before the termination of the International Commission, but we want to complete admission of guilt. We expect from Iran assurances of readiness for open and effective investigation, bringing those responsible to justice. We insist on quick returning of victims' bodies. Official apologies via diplomatic channels, and payment of compensation," Zelenskiy, the Ukrainian President said.
Iran's acknowledgement of shooting down a Ukrainian airliner is likely to inflame national sentiment inside the country against authorities in a situation when Iranians had united under their leader following Soleimani's killing. The general has considered a national icon and hundreds of thousands of cohorts turned out for funeral processions across the country.
The plane, en route to the Ukrainian capital, Kyiv, was taking 167 passengers and nine crew members from different countries. People onboard were mostly Iranians or Iranian-Canadians, including 82 Iranians and around 57 Canadians, 11 Ukrainians and three Britons.
This event occurred only weeks after authorities suppressed nationwide protests ignited by a rise in fuel prices.
"For Iran, this is possibly the right step to admit responsibility, as it gives people a step toward closure with this admission," said Payman Parseyan, a prominent Iranian-Canadian in western Canada who lost many of his friends in the crash. "I think the investigation would have revealed it whether they confessed it or not. This will give authorities an opportunity to save their face," Parseyan added.
Iran's prior explanation for the incident was a complete rejection of the allegation that missiles could have downed the aircraft. It consistently blamed a mechanical malfunction, instead. In their early report, Iran's civil aviation authority claimed pilots of the doomed plane didn't make radio connection but had attempted to turn back to the airport before the plane went down.
Experts from around the world raised concerns over the handling of the crash site, such as over the elimination of debris, provoking fears that Tehran had sought to remove evidence from the area. However, Iran has invited investigators from Ukraine and Canada and from Boeing to visit the crash site on the outskirts of Tehran and said it would also welcome members of other countries whose citizens were killed.
Iran has announced Thursday it would download information from voice and flight data recorders, known as black boxes, to find what had happened actually, although it said the completion of this process could take up to two months.
Vadym Prystaiko, the Ukrainian Foreign Minister, said on Friday that Kyiv had been given access to the flight recorders and now we've planned to start analyzing the content.
Experts expressed increasing international scrutiny would have done it all but impossible to hide signs of a missile strike during an investigation; therefore Tehran may have felt it right to make swift policy reversal than conflict-mounting criticism abroad.